Attract Clients From The Inside-Out: Everything A '3 Principles' Coach Needs To Know To Create A Successful Practice… All In One Weekend.
Dear Three Principles Coach,
You provide, in my humble opinion, the most valuable service needed by humanity.
Each person you touch with the truth, logic & wisdom of the Three Principles Paradigm is uplifted & their lives are changed beyond all recognition (just as mine was when I hired a 3P Coach). Their psychological suffering ends & is replaced with a freedom & happiness that few are ever blessed with.
Here's the catch:
No-one knows what the heck you do, how you do it, why it would work, why they should hire you, who Sydney Banks was… or how this is any different to the other thousand modes of therapy & coaching out there.
That's where I can help.
I don't believe you landed on this invitation page by random chance. I don't believe there is such a thing. I believe you were guided to be here to by the same Universal Mind that's keeping the Earth spinning & your heart beating.
But, just to make sure you're in the right place, this is for you if…
You're a coach, consultant, facilitator or healer that uses an understanding of the Three Principles as the basis of the work you do with people (or you want to!)
You want more clients – and you want to never have to worry about where your next client is going to come from.
You know you can help people transform their lives by gently pointing them to the source of all the wisdom they'll ever need… inside themselves.
You want to share the truth of the 3 Principles with everyone in the world, or perhaps just have a deep impact on 1 person at a time, so that their whole world changes through your Transformative Conversations.
You want an easy, dependable system that takes the 'hustle' and struggle out of the client attraction process.
Ideally, you want to set up streams of passive revenue so that you're not constantly exchanging time for money
Technology boggles your mind – you have no idea how a website is supposed to magically make paying clients appear in your life… (or your website has already done that, but you'd like to know how to make it more consistent & reliable).
You're kind of frustrated that you've discovered the greatest truth, the Ultimate Answer to psychology… and yet people aren't banging your door down wanting to learn it from you
You're a bit disillusioned by courses promising to help you get clients, only to discover it's some kind of weird woo-woo 'the answers are within you' thing… That leaves you not knowing the basics of how to grow a successful business (that the teachers of those courses often use themselves!)
Marketing makes your skin crawl. You see it as a means to an end – which is transforming people's lives & making a decent living at it.
It doesn't matter which of these situations rings true for you – if you're saying 'yes' to even one of these, or if your intuition is telling you that you're still in the right place, trust it and keep reading.
"With Mamoon's Strategies & Mindset Shifts, I Went From ZERO To 6-Figures In My Coaching Business, In Less Than A Year…!"
"The Mindset Shift Happened Overnight  – After Working With Him Over A Weekend I TRIPLED My Annual Sales And I Get To Work With My Ideal Clients…"
~
Sarah Phipp
The Biggest Myth About Being A Successful Coach

…Is that you need to 'deeply impact' someone in order for them to sign up to become your client.
…Or, that you need to create such immense value that they can't help but sign up with you.
…Or, that if someone isn't hiring you, it's because you haven't served them 'deeply enough' yet.
…Or that you need to first teach them the Principles, help them have a life-changing insight and then they'll sign up to be your client.
This is all total limiting BS (…"Belief Systems").
…And it's a great way to beat yourself up, convince yourself that you're just not a good enough coach yet, or that you don't have a 'deep enough' understanding of the Principles yet, because if you did they would have all signed up.
The Truth About Signing Up Coaching Clients…
I sign up high-paying coaching clients virtually every week – and I almost never give them an earth-shattering insight before they sign up with me.
It's much more simple & boring than that.
In fact, there are just 5 specific things you need to do during your Introductory Session if you want to systematically sign up clients, even if you've never done it before.
(Don't worry, I've created an in-depth training called "Client Sign-Up Secrets" which you'll get as a bonus when you join our event. It walks you through exactly what to do (and what not to do) when you're trying to sign up a client.)
"I Signed Up 2 New Clients At A Higher Price Than I Would Even Have Attempted Before!"
"I was not sure how to sign up high value, long term clients. I was charging on an hourly basis rather than package offers. I wanted to find out how to sell my coaching services in a move effective way.
During a coaching session with Mamoon, I felt first hand a powerful connection with him and through a set of very simple questions, experienced how internally motivating his particular approach and understanding was for me. I had a clear sense that I wanted to work with him and that what he had was what I wanted. His approach is an authentic, ethical and compelling one.
I signed up two clients within a few weeks on higher volume and package price than I would have attempted before. I valued my services more highly and therefore so did others."
~ Richard Cox
This Will NOT Be A 'Find The Truth Within You' Kind Of Training…
Don't get me wrong. Happiness, Peace, Love, Truth & Contentment can only be found within.
But no matter how hard I've searched within… I've never magically intuited how to grow an email list, conduct a webinar that successfully sells an online course, how to get my Intro-Session conversion rate up to 70% or how to run a Facebook ad.
That stuff requires good old-fashioned training & mentorship.
It's kind of like if you wanted to learn the guitar… You could hold it and randomly pluck strings until a song came out, or…
You could take lessons.
Fortunately, marketing isn't as hard learning to play an instrument. You'll get better at this over time, through your own experimentation (…just like after you've learnt the guitar, you can write your own songs), but you can hit the ground running when you know the fundamentals.
Which is pretty awesome, because 'hitting the ground running' actually means filling your coaching practice & getting paid well to do what you love: transforming people's lives.
That's what we'll make happen over two, powerful, life-changing days together.
Specifically, I'll share with you…
The 5 Step Plan To Fill Your Practice With Clients (…Virtually On Auto-Pilot)

Session 1: Get Inside The Client's World. (aka. Think Like A Marketing Genius)
Why trying to explain 'the Principles' or the value of coaching to someone before they hire you is usually a total waste of time (…and results in potential clients having blank expressions and saying things like 'but how does this apply to me', instead of saying 'oh wow, my life will never be the same again!')
Why thinking like an 'expert' is the biggest psychological block that makes you look arrogant & actually prevents you from connecting with potential clients & customers (HINT: It's about THEM, not YOU)
The simple mind-set shift that let's you stop hating marketing & start loving it as much as you love coaching.
Session 2: Invite Them Into Your World (aka. Grow Your Email List).
How I grew my email list from zero to over 10,000 people in just 18 months, without spending a penny on advertising
Why webinars are going to be a new staple in your diet and how to set them up quickly & easily without getting 'all up in your head' about it. I'll even show you how to 'Evergreen' your webinars so they grow your list & fill your Intro-Session calendar on Auto-pilot.
Most marketing activities are essentially a waste of time & money. Discover the #1 Strategy-Upgrade that will turn all your efforts into tangible, real-world results.
Session 3: Create Value (aka. Teach The Three Principles To Your New Fans)
Never-seen before 2-phase plan that takes 7-12 minutes a week to implement & results in massive online organic exposure that makes potential clients drool  at the thought of hiring you (I literally have people Facebook Messaging me randomly several times a week asking for coaching because of this!).
Why you'll never have to feel guilty about 'charging too much' ever again… so you can finally charge the fees you want (and have people happy & grateful to pay them).
How to quickly create articles/ blog posts/ videos/ audios that people can't wait to receive from you.
Session 4: Gift Them One Coaching Session. (aka. Discover How To Sign Up A Client)
The simple system I used to get 80 Intro-Session requests & sign up 20 real, paying coaching clients in my first month as a professional coach (NOTE: I didn't even do all 80 sessions, I could only handle 30 before I filled my practice! NOTE 2: You (obviously) might not get the exact same result in the same amount of time… But you'll have the same system in place working for your business).
Pre-written scripts of exactly what to write on Facebook & in emails to instantly get people asking for an Introductory Coaching session (we'll actually do this live during the event, so if you play full-out, you'll get instant results before you leave on Sunday)
How to deliver a super-valuable, super-powerful Breakthrough Coaching session that makes everyone WANT to work with you & makes everyone who can afford it sign up on the spot. (Imagine: no more weird-ness when talking to potential clients about money & fees).
Session 5: Transform Their Life. (aka. Deliver The Goods)
The ONLY 3 things you should actually ever be doing in your business. Everything else can be automated & systematized so you don't waste your precious time on it.
How to structure your coaching so that you can dramatically increase your fees & get people to pay for a whole year of coaching in advance.
What to outsource as soon as you have real, paying clients and where to find superstars to join your team & help you add more value to your clients.
Here's All The Information You Need…
Dates: Saturday 1st – Sunday 2nd July 2017
Times: 9.30am-6pm on both days
Venue: London (exact venue revealed inside)
Early Bird Ticket Discount Ends Mon. 26th of June
Regular Price:
£497
Early Bird Investment
£247
Includes attendance at both days of "Attracting Clients From The Inside Out"
Do You Want To Experience Real, Lasting Transformation Like All These People…?
"Mamoon's Deep Understanding of the Inside-Out Paradigm Plus His Amazing Coaching And Marketing Expertise Makes Such A Powerful Combination…!" ~Mary Strange
"The Results Were Great – I'm A Lot Better With My Clients, More Internally Quiet & More Impactful With Clients…" ~Ian Selby
"My Business Has Sky-Rocketed! I've Created Longer Term Packages, I Charge Way More, I Have A Team Now And I've Created Space & Time For Myself… You Will Get Your Return On Investment – Guaranteed!" ~Marina Pearson
"Mamoon Is An Inspiring Teacher, Understands The "How Do I Find Clients" Problem & Gives Simple, Straightforward  & Clear Systems You Can Follow – It Worked For Me & It'll Work For You!" ~Nick Settle
"I Realised I Actually LOVE Marketing & It's Much Simpler Than I Imagined…!"
"When I started learning about the principles, I did not know how to get clients, how to invite people on my coaching programmes. I had had many conversations but these were not leading anywhere.
I also knew that I wanted to share the principles in French, and living in the UK, I knew that building my practice online was inevitable, but I did not know how to do it.
The usual "follow your wisdom" was not enough for me, I wanted to learn a few tricks, tactics and strategies.
Going through Mamoon's training, I realised that I actually LOVE marketing and that it is much simpler than I had imagined.
With Mamoon's help, I created a very clear vision of what I wanted to do. I then was able to build my practice (online and offline) and I managed to create a list for my blog (more than 300 subscribers within a few months).
If you are serious about building your business and sharing the principles to as many people as you possibly can, then I highly recommend Mamoon. Together with being a great marketer, Mamoon has a very deep understanding of the principles and helped me to really see what I was not able to see for myself."
~ Sandie Martel (Mamoon's number 1 fan :p )
PLUS, When You Register Today You Get 
Instant Access

 To This Exclusive Bonus:

Mega-Bonus:
Client Sign-Up Secrets
This instantly-viewable recording from a 2-day  life-changing training shows you…
How to sign up high-paying coaching clients during your very first session with them
Why you'll never have to 'overcome objections' or be salesy in order to be a successful coach (in fact, being salesy is a huge turn-off to potential coaching clients)
Step by step instructions on exactly what to say & do during your Breakthrough Session so everyone wants to sign up with you
The 5 things to include when you offer an introductory coaching session to people, so they rush to take them up.
And much, much more…
Value: £2,000 But Yours Free When You Book Your Place On "Attract Clients From The Inside Out"
Here's All The Information You Need…
Dates: Saturday 1st – Sunday 2nd July 2017
Times: 9.30am-6pm on both days
Venue: London (exact venue revealed inside)
Early Bird Ticket Discount Ends Mon. 26th of June
Regular Price:
£497
Early Bird Investment
£247
Includes attendance at both days of "Attracting Clients From The Inside Out"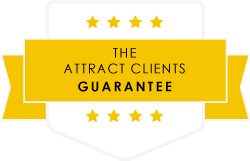 The "Attract Clients" Guarantee
I'm so certain you're going to LOVE this 2-Day Training that I guarantee it. Come to the event, absorb every insight & piece of training I have to offer on how to Attract Clients into your business.
If you don't absolutely LOVE the training and get immense benefit from our time together, then just let my team know by lunch on Day 2, and we'll give you a full refund of every penny you invested in your tuition.
If You're So Successful, Why Are You Teaching This Course (…Instead Of Just Running Your Own 3P Coaching Practice)?
This is a great question. I've always been somewhat sceptical of people who teach marketing but don't actually have successful businesses themselves yet.
The truth is, there is no immediate benefit for me to teach this course. Coaches are not my main target market (My mission is to bring the Inside-Out Paradigm to the Muslim world).
The reason I'm doing this course is because:
Coaches keep tracking me down & asking me for business/ marketing advice because they can see the success of my Inside-Out coaching business… So, I'd rather just deliver it all in one place.
A couple of years ago, I was a co-facilitator on Jamie Smart's Clarity Practitioner course & taught his students how to rapidly grow their businesses… and a couple of them absolutely insisted I come back to London to do this event. (Plus, Christian Mickelsen, #1 bestselling author of 'Get Clients Today', also regularly flies me over to the States & has me teach this stuff to his high-end clients – now I want to teach it to 3P Coaches too).
Even though teaching marketing isn't my main focus, I love the idea that heart-centred 3P coaches who really 'get' how the mind works & who are making a profound difference in people's lives can have a much bigger impact in the world & be much more financially successful after going through a 1-off weekend training with me.
Do you want to be one of them? If so…
Here's All The Information You Need…
Dates: Saturday 1st – Sunday 2nd July 2017
Times: 9.30am-6pm on both days
Venue: London (exact venue revealed inside)
Early Bird Ticket Discount Ends Mon. 26th of June
Regular Price:
£497
Early Bird Investment
£247
Includes attendance at both days of "Attracting Clients From The Inside Out"